Life In D.N. Model School
Kindergarten
Saadhana & Upasanaa
Work Experience & Co-Curricular Activities
Library
Laboratory
Physics Lab
Chemistry Lab
Math Lab
Biology Lab
Computer Lab
Yoga
Band
Life In D.N. Model School
D.N. Model Sr. Sec. School is a C.B.S.E affiliated co-educational school. It provides a conducive environment for the harmonious growth of the children Upholding the "GURU SHISHYA " relationship, one can even see a camaraderie between the teacher and the taught .The students are encouraged to inculcate the traditional and cultural values of our country.
Kindergarten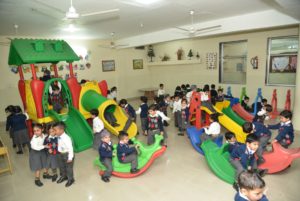 Children are a precious gift of god and keeping this in mind, our kindergarten is designed in such a way that all aspects of child's learning and development are taken care of .It provides a healthy environment which helps children learn and grow naturally.It enables the children to develop intellectually by performing various activities. It is fully air- conditional and provides all the facilities.
Saadhana & Upasanaa
The day in the school begins with the chanting of Gayatri Mantra . The students are taught Vedic Shalokas and Havan is performed occasionally highlighting the importance of Vedas.
Work Experience & Co-Curricular Activities
Education is incomplete without values like dignity of labour, love for fellow human beings and nature ,and team spirit. These basic character traits are inculcated among students by a variety of work experience and co-curricular activities like needle work ,paper mache, computers ,drawing and painting .Students are encouraged to participate actively in dramatics, group singing, recitation ,debates etc.The work done by the students is regularly evaluated and entered in their records in terms of grades.
Library
The school library is well stocked, properly catalogued and meticulously maintained with latest resource books on various subjects, works of famous writers ,dictionaries and encyclopedias with illustration and colorful story books for the kids.It is housed in a fully air-conditioned spacious hall with proper seating arrangement for teachers as well as students.
Laboratory
To develop a scientific among temperament of the students there are well equipped and spacious lab to accommodate around 35-40 students.
Physics Lab
As per C.B.S.E guidelines it has all the equipment for students to perform experiments based on reflection , refraction, vectors and forces, static electricity, semi-conductor devices etc. The students explore new concepts of physics by collecting and analyzing the data.
Chemistry Lab
It is well equipped with chemicals, reagents and modern equipment to help the students explore different technology application.
Math Lab
It has charts and working models to make the students learn the concepts through "learning by doing " method.
Biology Lab
It has a number of model specimens of animals and plants to educate the students about the enormous diversity in the living world.
Computer Lab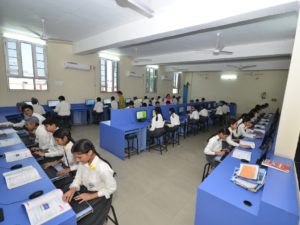 It has 45 systems with original operating system to facilitate the students of class I to X learn about of computer along with different Programming languages like VISUAL BASIC, Q-BASIC etc.
Yoga
The students from nursery to 10th are taught yoga by yoga experts as a part of school curriculum. They perform various Aasanas and Pranayama Emphasis is laid on physical fitness and sound mental health.
Band